All-In-One ThermoCook Review

INDEPENDENT REVIEWS
from reputable health and well-being bloggers.
See the full review
Spoonie Sophia
"The easy to read display gives you full control of the cooking process: It has a handy timer that you can set from 1 second to 12 hours, you can adjust the temperature from 37-120C and change the speed of the beater/whisker/kneader (it has 10 speed levels in total). Or, if you prefer, you can let the Thermocook do the thinking, using the built-in auto programmes including: Smoothie, Quick Soup, Chop, Saute, Stir, Steam, Stew, etc. I think its a really great piece of kit to have, especially if you lead a busy life and have little time to cook or if have a chronic illness which leaves you too tired "
Sophia is a food, health and lifestyle blogger, currently battling chronic illness. She shares her story and thoughts on coping with and managing illness as well as her passion for creating delicious healthy recipes.
Amber from "The Foodie mum"
Amber's passion in life is to cook and feed the people she love and since becoming a mum this has become even more important to her. She has a passion for all types of food from baking cookies with her kids to an amazing fillet mignon for a romantic dinner with her hubby.
The
Thermocook from Froothie
- The darth vader of all cooking machines. With its shiny exterior and stainless steel interior it's like a modern day work of art […]The first thing people ask when they see the
thermocook
cook is 'isn't that like a thermomix?' and i always reply 'Better!'. […]The
thermocook
has 10 speed levels, 84 temperature levels, can heat separately without the motor working, and you don't need to set the timer before heating. The timer can be set in secs, mins and hours and you can adjust this to whatever you need up to 12hrs.[…] 15 preset programs and 3 diy programs. These are great for someone, like me, who is a novice at using such a complex cooking machine.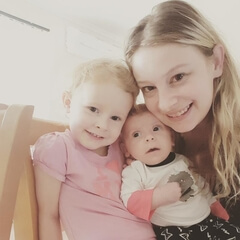 See the full review