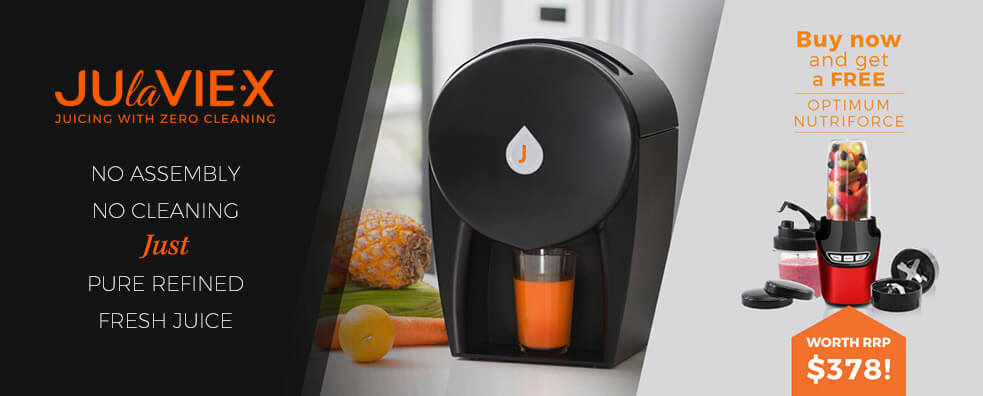 Juicing is one of the fastest, most efficient ways to give your body essential nutrients. Centrifugal juicers appear more affordable, but can be noisy, produce less juice, and can destroy important nutrients. Slow juicers are quieter, offer a higher yield, and extract the nutrients more effectively, but can be awkward to clean and much more expensive.

At least until now: The Optimum Slow Juicers give you the best of both worlds: all the nutritional (quiet, easy to clean and very economical) benefits of a slow juicer. Juice all of your favourite fruits and vegetables, including the wheatgrass and leafy greens or make nutritious fruit ice creams, soy or nut milks or homemade baby food with an Optimum Slow Juicer.

Learn more about our slow juicer range below.
Cold Press Juicers
Big mouth design
enables you to process whole fruits and vegetables with no preparation or clogging. It can easily fits a whole apple, orange, lemon and more...saving you valuable time.

Dual action juicing screw
extracts the maximum possible nutrients from all kinds of fruits and vegetables. It easily juices the leafy greens and wheatgrass that less advanced options often can't handle.
More and better quality juice
extracts 35-50% more nutritious juice from fruit & vegetables than centrifugal juicers. You can even use it to create nut- and soy-milks, tofu, 100% fruit ice creams and baby foods.

New era in slow juicing
create homemade fresh, nutritious juices has never been quicker and easier.

More nutrition
The no heat, less friction juicing of the Optimum 500 Juicer is proven to keep more vitamins, minerals and enzymes intact in comparison to high-speed convectional juicers.
Longer lasting juice
The modern upright design allows gravity to assist in the juicing process. Low speed (rpm), to minimise oxidation and produce a longer lasting juice.

Perfect for your daily needs
Each part was designed to compete with the world's best brands, and designed to last longer.